Come visit our state. Come to Florida. Come to the Tampa Bay Area and experience the best of our state. If you plan on going anywhere in the next few weeks or months, come see why we love our land.  Florida has over a thousand miles of beaches that are safe and welcoming. Come visit and see why Floridians love it here.
And, although I might be a little on the biased side here, I encourage you to specifically visit the Tampa Bay area.
A few weekends ago we visited Caladesi Island in honor of Natalie's birthday and to have a test photo shoot, with Natalie acting as her own model.  Micheal went with us to enjoy the sunny, sandy day, and also to help steer the rays of the sun with our large reflector.
To get there, you have to first go to Honeymoon Island and park your ride and then hop on the ferry or rent a kayak to go over to the island. Being that the forecast called for rain later in the evening, we chose the ferry.  The admission that day was $12.00 per person and $6.00 for kids. I assure you that the price is well worth it.  What you end up with on the other end of that foamy, misty,  ride is genuinely priceless.
It was a quick, breezy ride to a long wooden dock. We stepped out into what is a strange little nexus of gift shop, restrooms, boat dock, and the awesome beauty of raw, nearly pristine nature.  Right behind the most excellent concession stand that carries a surprisingly large menu just hidden behind the restroom and a thick tangle of trees the view opens up into an expansive, lush 661 acre park.  "Breathtaking," is the most apt way to describe this beach.  It is raw, primal, and still very much under the control of Mother Nature.  There are clearly marked areas that which a human foot simply cannot tread.  Every step you take on this sand is magic, and the air shimmers with gold and blue, and the song of the sea alone is enough to make you fall into a dream state, contentedly walking to the rhythm of the waves running up to embrace the shore.
We either swam or just laid back in the sun most of the day. Wildlife is incredibly varied and abundant, and very vocal.  We lounged on the sand, listening to the birds sing, or bobbed up and down in the warm, clear water.  We took a few photos here and there but spent most of the time just being silent, taking in all that we could of the jewel that is Caladesi Island.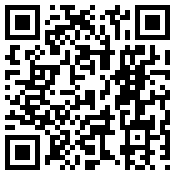 Caladesi Island Ferry – Up to date ferry rates and Dolphin Adventure information
Scan the code with your smart phone for directions